Trinsic Studio is an easy-to-use portal that allows developers to easily manage their integrations with Trinsic's APIs. With it, developers can manage their credentials, API keys, verification policies, and more—all in one place. However, the Studio is not just for technically-savvy people. From the Studio, you can issue verifiable credentials, perform verifications, and establish connections in minutes without writing any code. It truly is the best no-code tool for verifiable credential exchange.
Instead of spending weeks of development time or money on learning the ins and outs of self-sovereign identity (SSI), you can sign up for a free Trinsic Studio account and issue your first verifiable credential in minutes! Learn more about what you can do with Trinsic Studio below.
What can you do with Trinsic Studio?
Before issuing or verifying any credential, you must create an Organization in Trinsic Studio. When you create an Organization, you are creating a credential issuer and/or verifier. The number of Organizations you can create depends on your Trinsic Studio plan, so check out our pricing page to see how the plans differ.
When we say that issuing verifiable credentials using Trinsic Studio takes only minutes, we mean it. The Studio guides you step-by-step on how to create a credential template, so you can control what information is included in a certain type of credential. You can also enable revocation if necessary for your use case. Once a credential template is created, you can start issuing that type of credential to anyone. Trinsic Studio gives you the option to send the credential by connection, email, or QR code/link. Check out this tutorial on how to issue credentials in Trinsic Studio.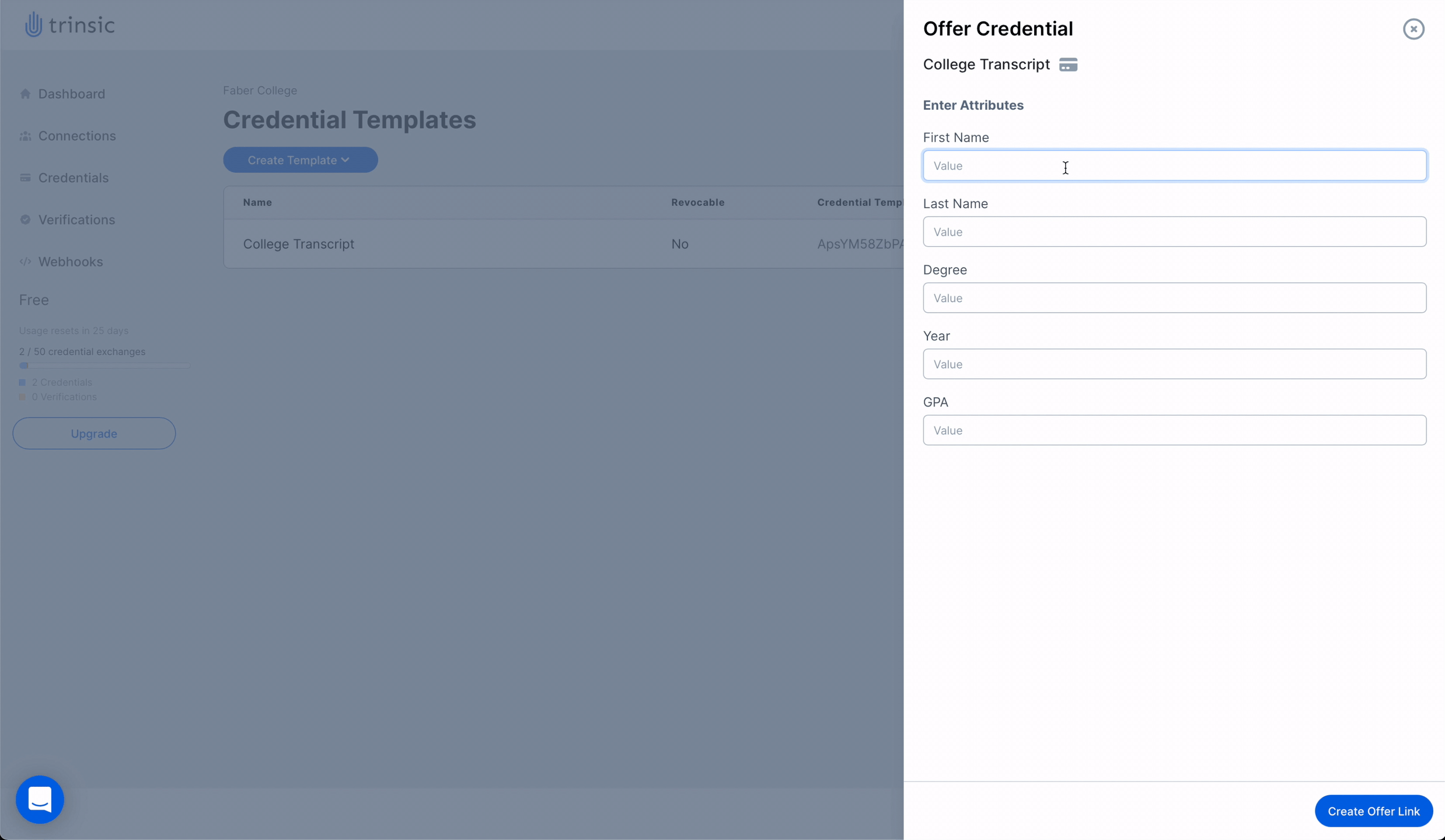 Verifying credentials is just as easy with Trinsic Studio as issuing them. To be able to verify a credential, a verification template must be created. Verification templates specify the exact information an individual needs to share in order for the verification to be successful. Trinsic Studio even gives users the flexibility to define verification templates that utilize zero-knowledge proof (ZKPs) technology. Once a verification template has been created, you can use Trinsic Studio to send a verification request using by connection, email, or a QR code/link. Learn how to verify credentials in Trinsic Studio using this tutorial.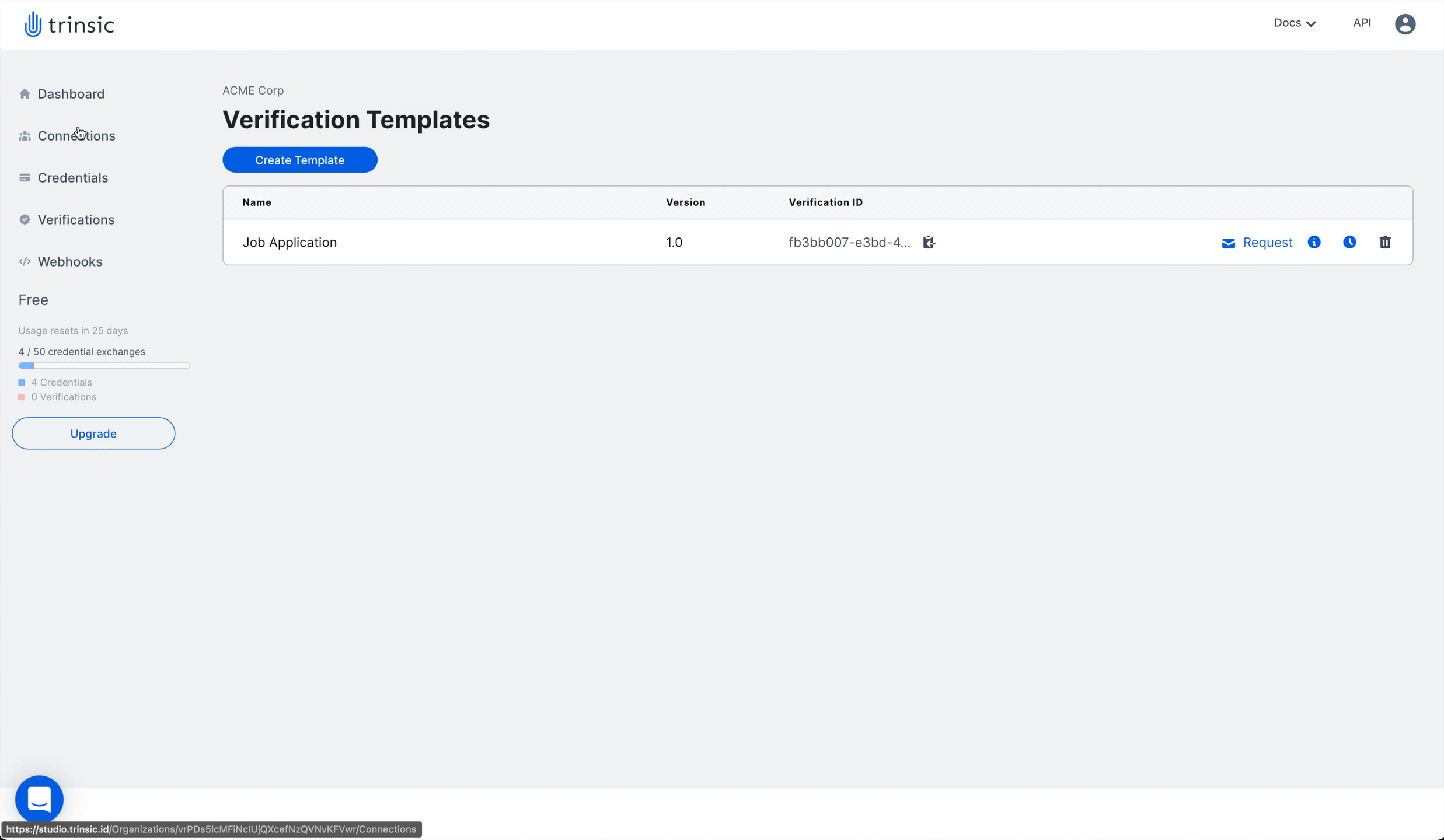 Connections are used in SSI to create a secure, peer-to-peer communication channel between you and another party. With this connection, you can issuer, verify, and share verifiable credentials without fear of man-in-the-middle attacks. With Trinsic Studio, creating a connection with someone else is as easy as clicking a button to generate a QR code and sending that QR code to the other party for them to scan using an SSI digital wallet (like the Trinsic Wallet). Learn more about how to create connection in Trinsic Studio through this tutorial.
Trinsic Studio can now be white labeled with your branding. This highly-requested feature is available to our enterprise customers. If you are interested in learning more about white labeling the Studio, please contact us here.
More than 1000 developers from organizations around the world have used Trinsic Studio to manage their verifiable credential exchange. Try Trinsic Studio out for yourself today by signing up for a free account. If you are passed the exploration stage and ready to build an enterprise-grade credential ecosystem, our pricing is based on the number of credentials issued and verified, so you only pay for what you need.
For more support, check out our documentation which includes explanations of SSI terminology and concepts, tutorials, our API Reference, and a community forum. And as always, feel free to reach out to support@trinsic.id if you have any questions.