Since launching the first production-grade platform for verifiable credentials, we've seen over 1,000 innovators from all over the world build solutions leveraging the verifiable credential standard. These innovators collectively have deployed production verifiable credentials to over 80,000 people across five continents. These teams trust Trinsic to maintain a robust platform upon which they can depend. Today we're announcing two new resources to support these and future production deployments: an API status page and a community Slack channel.
Dependability, or being as secure, scalable, and available as we can be, and transparency, or being open with our partners about our platform's capabilities and limits, are two of our core values. The best way we know to demonstrate our dependability in a transparent way is to host a public API Status page.
A status page has been a highly-requested feature for some time. You can find the new status page at: status.trinsic.id. We began testing the status page a few months ago using several tools that interact with various different API endpoints across our multiple APIs. This ensures that each kind of endpoint (for example, endpoints that access wallet storage and ones that write to the ledger) is sufficiently covered.
View historical uptime: Using the status page, you can see the last 90 days of uptime of all our externally-facing services. You can also inspect individual incidents and view incident reports.
Be notified of incidents: By clicking the "subscribe" button in the upper-left of the screen, you can have any downtime or incidents trigger a notification to your email or Slack workspace.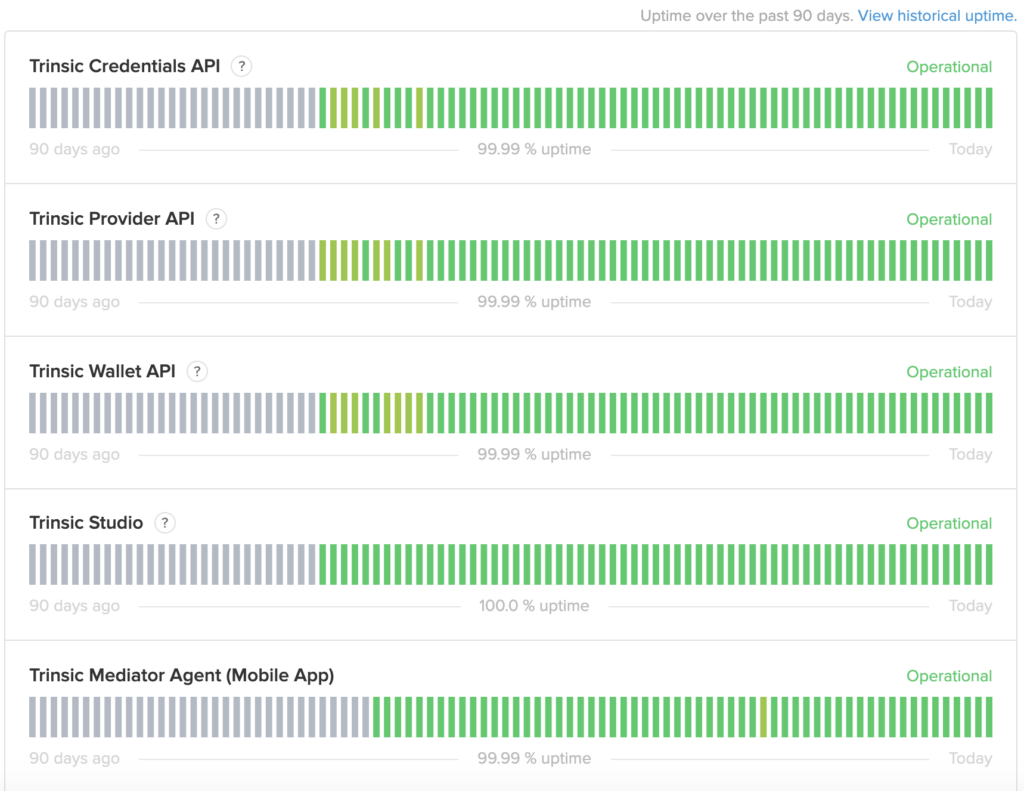 Recent outages at Slack, Google, Facebook, and more remind us that no company is immune to incidents. However, our partners generally expect a few things from us: 1. that Trinsic will proactively address potential issues to avoid incidents from occurring, 2. if incidents occur, respond immediately, 3. be transparent and communicative throughout the process, and 4. remain within our SLA.
As Trinsic has grown in popularity among the SSI developer community, several Trinsic User Groups have started organically. While we encourage this, we also want to give these communities an official home. That's why we've created a Slack workspace just for the Trinsic community. It's free for anyone to join and get support from the community. Our team is also present to support teams on paid plans in private channels where we can offer more dedicated support for production deployments.
In order to enable trust online, we know we must first earn the trust of our customers. We are committed to do all we can to be the best and most reliable option for any organization wishing to implement verifiable credentials and will continue to build the tools you need to be successful in production deployments.